Hi Readers!  Today we have one of our Registered Dietitian Advisors, Amy Campbell, blogging.  Enjoy!
~Marcia
Has sodium been getting a bad rap?  A new study would have you believe so. As a dietitian who has worked with hundreds of people who have diabetes and/or heart disease, I've probably talked myself blue about the importance of cutting back on sodium.  The reality is that it's hard to eat less. Wouldn't it be great if we could start shaking salt on our foods again or reach for a handful of potato chips without feeling twinges of guilt?
 To be fair, sodium isn't all that bad.  After all, it's needed to help regulate fluid balance in the body.  And our kidneys do a great job of controlling how much sodium we keep in our bodies, excreting any in the urine.  But in the even that your kidneys aren't working so well (maybe due to diabetes, for example), sodium tends to stick around, making it harder for your heart to pump and raising blood pressure.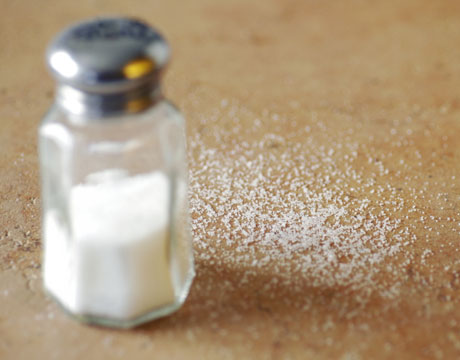 The 2010 Dietary Guidelines for Americans tell us that we're supposed to reduce our sodium intake to less than 2300 milligrams (mg) per day – that's about a teaspoon of salt. Most of us consume at least 3400 mg per day.  If you happen to be over the age of 51, and or African American or have high blood pressure, diabetes or chronic kidney disease (which is about half of the American population) your goal is no more than 1500 mg per day.  Most of our sodium comes from processed foods such as cold cuts, hot dogs, canned soup, cheese and pizza.  Even some cereals, salad dressings and desserts are surprisingly high in sodium.
 A study published in the May 4 issue of the Journal of the American Medical Association begs to differ with the whole notion that too much sodium can cause problems. The authors of this study followed almost 3,700 European men and women for eight years, measuring urine sodium excretion, blood pressure and cardiac events, such as heart attack, heart failure and stroke. The results? The people who excreted the lowest amount of sodium in their urine were 56% more likely to die from heart disease compared to those excreting higher amounts of sodium.  (Keep in mind that the more sodium you consume, the more you lose in your urine). And the amount of sodium excreted seemed to have little effect on blood pressure. 
 These findings go against the grain of what dietitians, physicians and other health professionals have been telling us for years: too much sodium may raise blood pressure, which in turn, may increase your risk of having a heart attack or stroke.  But, as with many studies, there were some weaknesses with the study, including a small sample size and the fact that other factors weren't considered, such as physical activity and calorie intake. 
 What does this mean for you?  It's hard to ignore the many other, well-designed studies linking a high sodium intake with high blood pressure.  And since one in three Americans has high blood pressure, it makes sense, at least at this time, to cut back on sodium, along with reaching a healthy weight and fitting in more physical activity. So, as tempting as it may be to reach for the salt, my advice is to keep the salt shaker in the cupboard and grab the pepper mill instead!